Gospel minister Evelyn Wanjiru is expecting her first child with her husband Agunda after waiting for 10 years. The award winning artiste broke the news to her fans today on her social media platforms by stating that GOD finally answered her prayers.
As I write this, my eyes are full of tears. I have been waiting for this season for 10 years in my Marriage. A blessed womb, God has fulfilled
His promise in our lives. " I prayed for this child, and the Lord has granted me what I asked of him" 1 Samuel 1:27
I pray for every couple almost giving up
Look at us and see what the Lord has done.
Friends and family I tell you; There's a distinct difference, anybody can be a father but it takes a special man to be a DAD. This man right here is a gift from God to me .I don't know who needs to hear this but I was hungry enough to wait for that promise to be manifested in my life.

You don't get what you pray for, you get what you've waited for, "because those who wait upon the Lord are like Mt zion they shall mount up with wings like eagles."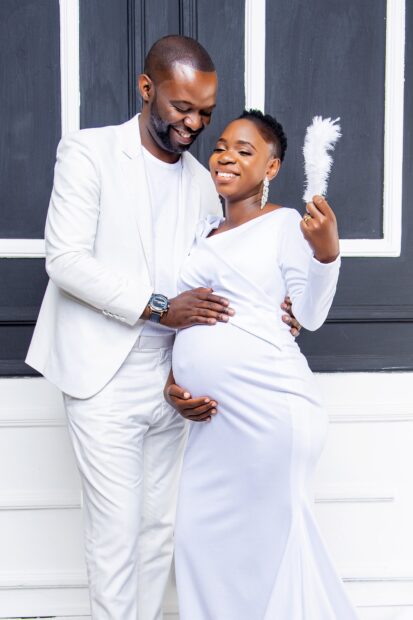 While we were waiting We kept on singing Praises to Him, we kept on encouraging others yet we were also asking God questions.
" where are you ? Until when, how many more doctors shall we see?"
Then I would hear a voice saying ..Get encouraged. The measure of your Temptation is equal to the measure of your Blessings.
So fight your battle delightfully for after every Test there is a Testimony and after every Victory there is a Prize.
Evelyn had faced so much pressure from fans and followers who had made this topic a big thing :
"I am hopeful that we will get children and we believe it is just a matter of time. It seems to bother other people a lot, though. We used to get pressured by friends about it but they have given upon us. Fans, though, are a different story." Evelyn had shared on a previous interview

Today the story is different as the couple celebrates the birth of a new child.
Agunda and I have come to realize that God has a track record of keeping His word.
This season, may even the angels testify of your breakthrough. Change of your status! Change of your name! Change of your circumstances! Change of your story!
Watch the new revelation below and share your comments below