Christina Shusho is one amazing gospel worship singer in the Christian Ministry in Tanzania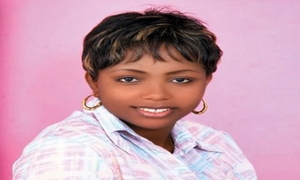 .  From many, you will say she has the passion for the Lord as her music is so deeply based in the word of GOD.
Recently she talked about her Journey on (West Fm) in the Christian Faith and here is here story :
Christina Shusho started her journey from humble back grounds, once a church cleaner that enjoyed her job, until the day she recognized her talent in singing 10 years ago.
She was Born in Kigoma Tanzania mid days of November to a born again Christian family and had a religious upbringing. At the age of 15 years she gained her own salvation up to this day.
She went through Tanzanian education system, where she schooled at Kigoma for both primary and secondary schools. Then got married in Dar es Salaam to John who is a practicing preacher and are blessed with 3 children- 2 girls and 1 boy.
From working in the church, she later joined the church choir which later drove her to try and sing her own solo piece. She then tried to sing out of choir, wrote her songs in trials with hope that she would release her own solo album someday.
"I used to sing in the church choir then I decided one day to try out singing on my own, that's how I discovered that I had talent which I had never realized," said Shusho.
Her first album 'Kitu gani kinitenge na upendo wa Bwana', which was mainly sold in her home country Tanzania, then 'Unikumbuke' and followed by 'Nipe Macho' totaling up to 34 songs that she has released so far.
 "New level new devil, challenges become more and more each day as a Christian and every time you grow in Christianity the more the challenges," says Shusho.
Besides singing, she is a model and owns a modeling agency and wonders why Christianity should not be equated to beauty.
"Where I come from they always equate Christianity to unkempt people and I wonder why not for Christians to also be clean in the inside and outside," said Shusho.
She appreciates both Kenyan and Tanzanian gospel music but says Kenyan music is good, but more appealing to the youth as compared to Tanzanian music. Shusho reveals that youthful music is bound to die off since people grow out of their youthful stage and stop listening to them.
She has collaborated with other artists across East Africa in her music; many artists from her home country and in Kenya she recently did Napenda With Geraldine Oduor.
http://youtu.be/S4xOPDVAc6s