VISA and telco Safaricom have finally revealed the long-awaited, much-hyped virtual card that will allow Safaricom users to pay for goods and services from worldwide companies.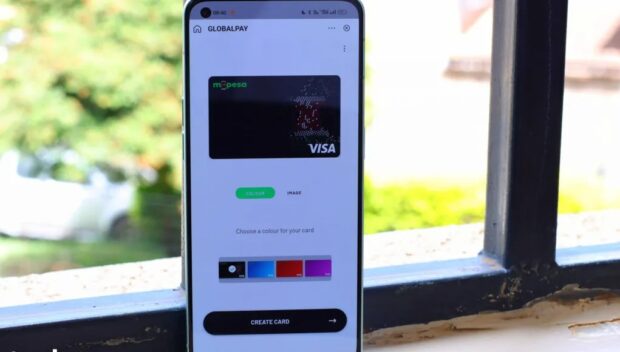 According to techweez
This is part of the M-PESA GlobalPay offering, which the new partnership has been given a new identity. It's not to be confused with M-PESA Global, which has been around for over a decade.
Users can use the former to pay for things that they couldn't get with an M-PESA-affiliated product, whereas the latter lets customers to send money to each other in dozens of countries outside of Kenya.
So How Does Mpesa Global pay work  ?
This is a virtual card powered by VISA in conjunction with Safaricom, as the name implies. Although it is not a physical card, it will function in the same way as any other VISA card you have previously used.
This implies you can use it to send foreign payments – international payments, not local money. This means that VISA merchants who process payments outside of Kenya will be able to accept payments via the virtual card. Those who work in Kenya and process their payments here, such as Jumia, should be aware that some e-cab apps and restaurant ordering apps will not work, so keep that in mind. Furthermore, Lipa already encourages local shopping.
First and foremost, you must use the M-PESA app, Safaricom's super app that has since been downloaded more than 5 million times. This is not available on mySafaricom app, for this and many other reasons, there has been a case for keeping both apps.
Once you have the app, all you need to do is hit the Grow button on the bottom right.
On the Discover More section, tap GlobalPay. It might also be displayed just above the page as a banner.
Afterwards, the GlobalPay tool will open as a mini app (these are the small programs that are part of the M-PESA app and offer additional services such as booking for a bus, et al, instead of downloading the individual apps for those services).
You will be asked to opt in.
The next step will ask you to customize your virtual card. There are four nice colours (black, blue, red, and purple), but if you want more, you can even add an image to the card. There are five preset images, which are basically the big five animals – and is probably why the function was held at Nanyuki's Ol Pejeta Conservancy.
Lastly, you will confirm the process and your card will be ready.
During the set-up process, you will see a bunch of flash messages (that show up on your screen without being saved to your phone) just for confirmation purposes. This has been done for security reasons.
On the home page, you will see some buttons, such as one that hides your card details, and another one that allows you to set a budget. You can even suspend the app just from the home page.
ALTERNATIVELY, you can access the same service by dialing *334#, then choose Lipa na M-PESA, then GlobalPay.
Amounts to be loaded
The same M-PESA limits will apply to the card. This means that the minimum amount you can transact is KES 110, whereas the maximum is KES 150K.
You daily transactions will be capped at KES 300K.
This is also where we mention that Fuliza cannot be used to complete international transactions using the virtual card.
How much will transactions cost you?
This is an interesting question that we also wanted to know.
VISA/Safaricom will not charge you for your online purchases.
Nevertheless, Forex charges will be applied. Safaricom will charge you a fee of 3.5 percent in Forex exchange markup based on the prevailing exchange rate from KES to the currency at the time of the transaction. This markup is the usual foreign exchange difference, and Safaricom says that it is cheaper than most banks. What you see on the cost calculator is what you get, as this is the rate inclusive of the markup.
CVV (Card Verification Value)
If you have used VISA card or any other payment processor online, you must have been asked to enter the CVV code of your card. It is the three-digit number at the back of your card, which is also used to show merchants that you are the real owner of that card to stop cases of fraud.
The GlobalPay virtual VISA card will use the CVV too, but it will only be valid for 30 minutes.
This will prevent anyone who has your card details from using your card because they may have to generate another CVV. – said Safaricom in a statement.
Value
A lot of people have been asking why Safaricom has never released a card of these capabilities before, but it seems that the operator listened, and sought the expertise and reach of VISA to see the product come to life.
It makes a lot of sense for the unbanked or those that want to pay for international services using their M-PESA wallet. A major issue has always been Netflix, which, after launching in the country a couple of years ago, still doesn't accept M-PESA payments such as the likes of Showmax or even Spotify.