A South African man is claiming to be the reincarnation of Jesus Christ, just a week after reports came out about a man in Australia with a similar claim.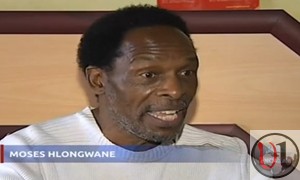 "I will never die, as God gave me as a command," said Moses Hlongwane in an interview with eNews Channel Africa. The man, who lives in the northern KwaZulu-Natal town, has apparently attracted over a dozen followers, who are giving him money in hopes that his message will be spread around the world.
Hlongwane says that much like Jesus, he spent time in the wilderness, where he overcame Satan and was resurrected as the Son of God.
"I was in this room from 1992 and have spent 22 years in a fight with the devil and have overcome him," the South African claims. "As I speak to you I will never see death and I am now getting ready for the opening of the graves and healing of blind and lame."
eNews Channel Africa interviewed one his followers, 84-year-old Paul Sibiya, who said that he gives his entire pension to the man he believes to be the reincarnated Son of God.
"I am a pensioner, however, I don't use it (social grant) to support my wife but I give to the king of kings as a financial boost," Sibiya said.
This reminds us of the part in Mathew 24:5 in the Bible, which states:  "For many shall come in my name, saying, I am Christ; and shall deceive many."
His wife, Alfin, said that her husband believes that he is making a sacrifice "for his soul."
Some of the disciples featured in the video are as young as 14-years-old, and say that they want the entire world to "acknowledge Hlongwane as the legitimate Jesus Christ."
Last week, reports came out on an Australian man who has also been claiming for the past few years that he is the reincarnation of Jesus Christ, and that his partner is the reincarnation of Saint Mary Magdalene.
"Just a little over 2,000 years ago, we arrived on the earth for the first time. My name then was Yeshua ben Yosef, or the Jesus of the Bible, the son of Joseph and Mary. Mary's name then was Mary of Magdala, the woman identified in the Bible as Mary Magdalene. Mary was my wife then, and the first person I appeared to after I was crucified," 50-year-old ex-software professional Alan John Miller writes on his website, which features DVDs of his speeches and YouTube videos of him answering questions about his claims.
The Rev. Dr. David Millikan, a Uniting Church Theologian, has warned that such movements can have negative effects for their followers.
"The danger is you'll be drawn closer and closer into his web to a point that you lose access to your social life, you spend all your money, you'll have the curses of all your family ringing in your ears and you may well lose your relationship," Millikan observed.