Fresh Aroma is an Apostolic and Prophetic ministry anointed for this generation to release healing, restoration and transformation. Prophetess Mwaka Twagirayesu is the visionary, founder and president who mightily used of God and multitudes have experienced the power of the Holy Spirit flowing through her.
She is an anointed, authentic, prolific and profound preacher and teacher of the word of God. She is a much sought after International conference Speaker, Psalmist, Revivalist, Author, Radio Broadcaster, Attorney, Social Worker, Mediator, and a Spiritual Mother to many. She is a fiery preacher with a strong prophetic mantle upon her life and has ministered all over U.S.A, London, Belgium, Zambia, Kenya, Uganda, Rwanda and Kuwait.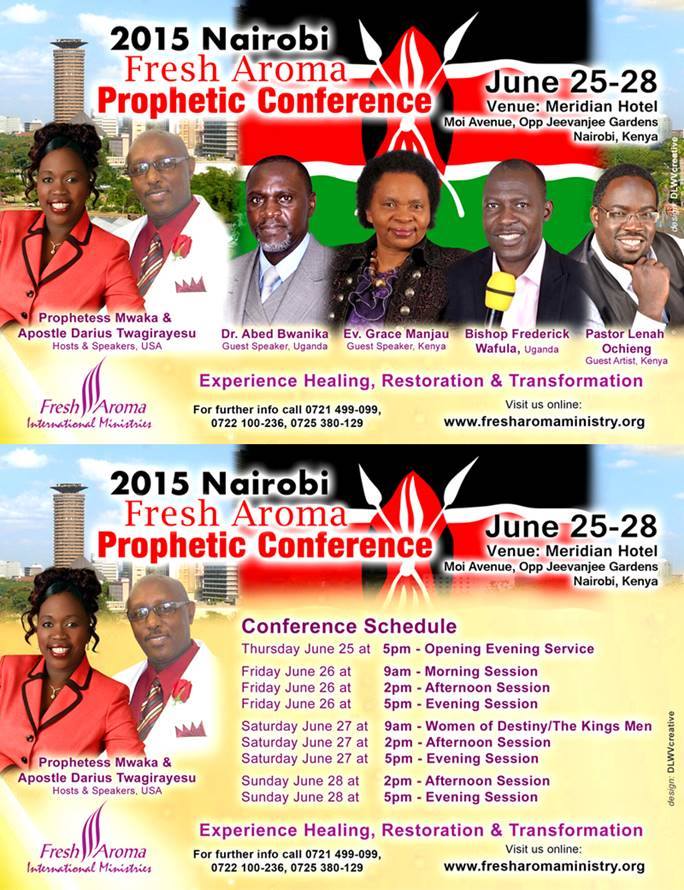 Don't miss the 2015 Nairobi Fresh Aroma Spring Prophetic Conference June 25th to 28th at the Meridian Hotel Opposite Jevanjee Gardens. Come experience the word of God through Dynamic speakers, Dr Abed Bwanika from Uganda, Evangelist Mama Mwai from Kenya, Bishop Frederick Wafula from Uganda, Apostle Darius Twagirayesu from the U.S.A and Prophetess Mwaka Twagirayesu from the U.S.A. Anointed worship led by Pastor Lenah Ochieng and the Kenyan team, Strategic and Prophetic Prayer to unlock your destiny. Come expecting!