This just started as a joke but our main aim was to come and reason together as brothers and sisters and just discuss about the word of GOD.
Our main topic was Whats Your First Priority ? and  the question that came through Is : How challenging is it at times to put GOD first?
It was so amazing how it turned out as GOD made the message go "viral" by Making it trend in Kenya on Tuesday 18th from 8.30pm.  Our Bible Study was just behind a local program called #Tujuane on KTN which is watched by Millions.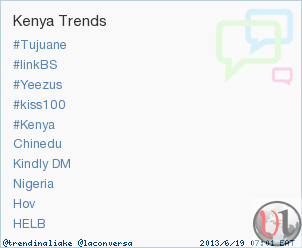 GLORY TO GOD!! If you have time join us every Tuesday from 8.30pm on twitter under the hashtag #LinkBs.