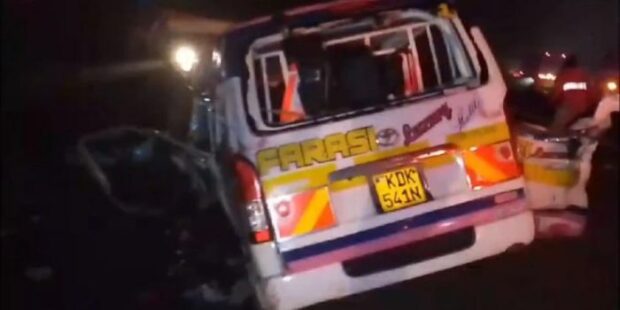 Residents of Nakuru county woke up to a sad morning after 8 people lost their lives in a grisly road accident while the injured 5 were rushed to NakuruLevel 6 Hospital.
The 3 AM incident involved a matatu from Bungoma and a lorry heading towards Eldoret at Ngata-Salgaa road.
According to one of the residents, the area has been a notorious hotspot in the recent past with many people losing their lives.
"There was an accident here involving a matatu and a lorry where I found two people dead by the time I was arriving at the scene," commented one of the on-lookers.
The witness added that the road is usually very slippery in the rainy season and maybe that condition could have led to the accident.
Police and officers from the National Transport and Safety Authority(NTSA) arrived at the scene to retrieve the bodies of the deceased from the wreckages and also try to control the long traffic on the road after the incident.