Depending on the side of Nairobi City you reside in, you will notice there is a certain trend in dressing. University students also have their own fashion trends amongst themselves. Some are unique to the individual institution while others cut across the board.
Most degree-seeking students in Nairobi are between the ages of 18 -25 and they have a similar liking for things due to the level of responsibility they tend to have at that age bracket. This directly affects how they choose to dress.
Most universities in Nairobi do not have a dress code but those that do tend to focus on decent and appropriate dressing that would not be distracting. Other institutions like Strathmore prefer to have their students dress in a professional manner preparing them for the work field.
It's easy to identify a student in Nairobi nowadays due to five fashion pieces that they have adopted that cut across both genders regardless of the institution they go to. This is especially true in the rainy season that is upon us.
The Cargo Pants: The rise of this trend has hit the students hard. The trend started last year in the West when it was seen on numerous runways. The cargo pants are comfortable and utilitarian due to their multiple pockets.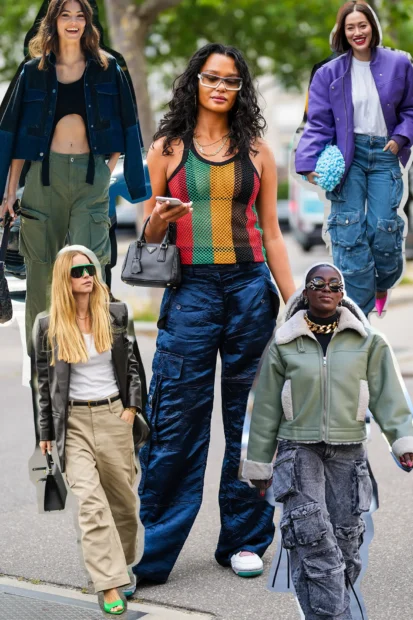 Sneakers: It has never been easier to style sneakers. It can be worn with both casual and official outfits for both men and women. According to preference, one can go for chunky or slim sneakers to fit their style.
Tote bags: The bags are loved because of how spacious they are. Able to fit your laptop and books. Also, the increase in demand in the market has led to reduced prices of the bags making them easy to own.
All-black look: When in doubt go for an all-black look. This is a safe bet, especially for those who lack style or do not want to put time into curating a look. This works for different materials.
Oversized outerwear: Whether it's a blazer, a bomber jacket, or a hoodie. Oversized outerwear has become a trend among university students that if executed well blends into the 'streetwear' fashion style adopted in the West.
For the students who have been wanting to add to their wardrobe this is a good start. Especially because most if not all these trends can also be styled during the hotter seasons.