Men Of GOD gospel group made up of Boss Tony and Kenti are set to Launch A New Music Platform For Their Label.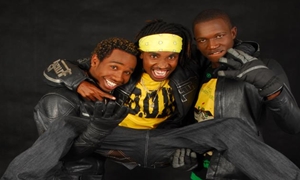 Among other Songs they brought us Zing Zing Dance which most people recognized them for , termed as "The Zing Zing Brothers" later Naona Macho with Eunice Njeri , Heart Breaker with Mr Vee , Money Money and recently Confusion with Rufftone but just to mention.
From MOG press release the new platform is actually a brand feature for their label Badilisha Mtaa Music which is a gospel platform for them and also upcoming talents.
Further they say the platform will be more of showcasing their music and how far the Lord has taken them.
We wish this brothers all the best in their project and for coming up with an online bible study by the name Badilisha Mtaa BS.
As Always keep it locked as we will let you know of when the launch will take place.
Here is MOG backin the days Zing Zing
http://youtu.be/iddnHRWxq8k