System Unit has done It Again :
Scepta brought you No Kululu No Kalala with Jacky B and Dk brought to you Sari Sari Ft Anto Neo Soul but this time they decided to do a collabo under a song called Na Wa 4 U.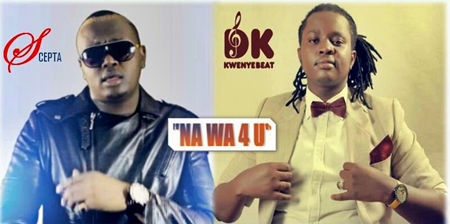 NaWa 4 U as many know is a Nigeria Slang which means "this one is for you".  As Scepta puts it : This song is dedicated to God and to all my fans out there. This one na wah 4 you. God bless you all. I love you." – Scepta.
We are really humbled by the talent System Unit has and also the ones its building. The Video Features the likes of DjMo DjSadic HopeKid and many others.
On a Special Message Scepta would like to big up the following for making Na Wa 4 U a Success : Young Wallace(Video Director) Dr Eddie (Audio) , Dj Mo Dj Sadic Hopekid Size 8, Zionists Dancers, Above the Limits Crew and most Importantly GOD for helping him Work with Dk Kwenye Beat.
Watch  Na Wa 4 U by Scepta Ft Dk Kwenye Beat  Directed By Young Wallace/Convex Media/MITV/Make It Tv.  Fresh and New On Uliza Links.
http://youtu.be/4Wy2BjzHiaU