KTN's Investigative reporter for the series Jicho Pevu,  Mohammed Ali recently did  receive a death threat from a self proclaimed powerful Kenyan'  who warned him to stop criticizing the Jubilee Government or otherwise he would be 'finished'.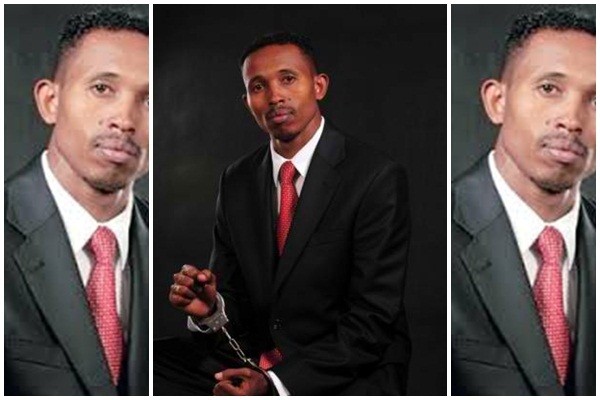 The man who identified himself as Robert Wachira warned Mohammed Ali to tread with caution and notified him that he had the means and the power to do anything to destroy him.
However not cowed by the message Mohammed Ali shared the message that was sent on his social media page.
Mr Mohammed Ali, you are a young boy, apparently you just married the other day and you now have a son less than one year old. i want to give you a last warning. life is so precious if you don't know. LEAVE JUBILEE REGIME ALONE. WACHANA NA SERIKALI. WACHA KUINGILIA SERIKALI. UTAUMIA KIJANA.KAMA UNATAKA KUPATA SHIDA UTAIPATA TU. FANYA KAZI ZAKO KWA MAKINI SANA.
SITA KWABIA TENA. KAMA UNATAKA KUWA MWANASIASA JIUNGE NA OPPOSITION NA UNJUE KUNA CONSWQUENCES. YOU ARE WARNED YOUNG BOY. NEVER AGAIN OPPOSE OR CRITICISE GOVERNMENT. YOU CAN GO TO POLICE IF YOU WISH. I CAN EVEN GIVE YOU MY NUMBER I AM VERY POWERFUL. 0721 416582. NINAITWA ROBERT WACHIRA.
The Man even went further and gave out his number on the post he sent to the journalist who is popularly referred as a Moha and even dared him to report to the matter to the police.
Accustomed to these kind of threats and this not being the first one, the investigative report who has  previously been quoted to have sworn to die for truth and justice had this to say about the threat.
VITISHO VYA VITOTO VYA JUBILEE CHINI YA UONGOZI WA KI-IMLA.
Translated as Childish threats from the Jubilee under a dictatorial leadership.