Emcee from a dictionary definition, is derived from the abbreviation M.C. or "Master of Ceremonies," which also implies "move the crowd." An emcee is a person who raps to inspire people with well-written, crisply-delivered, clear and concise lyrics.
As we look at Emceeing, not many people would have looked it as a full time job before. But Now the job is taken to be  a career as people earn from it here in Kenya looking at the likes of Churchill Big Ted and Eric Omondi.
The Hype Masta Alemba was and is still one great emcee in the gospel scene. Being one emcee who is truly quite creative and add to that funny as he can come up with something to amuse the crowd.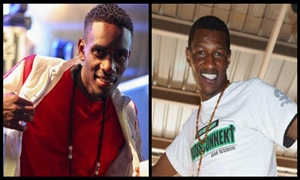 On that note these two brothers in the gospel ministry Emcee Kelly And Emcee Njugush, seem to have occupied his shoes while Alemba is away at the US.
Emcee Kelly described as The Hype Mover, is one cool emcee working with Genius Entertainment (Dj Sadic ad Dj Touch) , whose future could only get brighter
Mostly associated with Alabasta Dance Crew, and studied at Ofafa Jericho.  On his emceeing career he has been an emcee in the following events Club 316 , St. Pauls Gala Nite , Groove Party ,  Gospel Karaoke night among others.
Here is Mc Kelly At St. Pauls Gala Nite :
Looking at Emcee Njugush described as the Top Hype Mc of System Unit ( Dj Mo) is one mc to watch out for. He is closely associated with Altarmin Dance Crew who won groove awards 2012 as dance crew of the year.
Emcee Njugush a graduate at Shang Tao arts college, also a radio show host ( Replay Reloaded On Truth Fm ) now is the official System Unit Mc after Alemba left.
He has been a crowd mover at the following events : Cross Connekt, Groove party, Make it Or make It Campaign, System Rave among others.
Here is Mc Njugush Emceeing At Cross Connekt
Looking at these too brothers we have to say they are both talented and for sure they are two great Emcee's to watch out for, probably "The Next Alemba Hype Masta" together with  Melvo Hype , Hype Gudah among others in the gospel scene pushing for Jesus to the fullest.