"Friendship, like phosphorus, shines brightest when all is dark" this is one statement that Gospel artiste HeyZ will keep in mind for a long time to come. This is after alot of his freinds and family came out to support him in raising money for the hospital bill of baby Riri.
Baby Riri is the daughter of HeyZ's younger sister, Abigael Moya, who passed away on 15th August 2016 while giving birth. Baby Riri has since been moved from Nairobi womens hospital to Agha Khan's hospital Intensive Care Unit (ICU) for better treatment due to health complications.
The message about the fundraising was spread across all social media platforms thanks to social media big wigs like Chris Kirwa, Xtian Dela, Carol Spenser and many more who made the #istandwithbabyriri trend.The fundraising took place on 18th August 2016 from 5pm at the Chester House, Nairobi.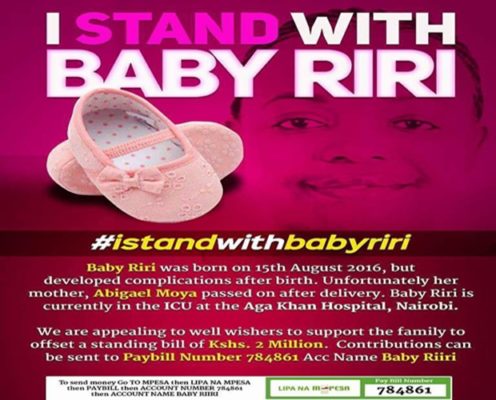 HeyZ was perplexed, lost for words and overwhelmed as to how people came in numbers to support him and his family. Amongest those who showed their support were Blessed Njugush (formerly of Real Housewives of Kawangware), Dj Sadiq, Kim Danny, Dj Mo, Chris Kirwa, Xtian Dela, Dj Joe Mfalme, Celina (mother-in-law), Abel Mutua, Tina Kagia, Willis Raburu, Carol Spenser, Sarah Carey, Dj Katter, Hopekid and many more.
HeyZ was thankful to everyone who showed their support and is still requesting for people to support him and help him reach the target amount iof money which is approximately 2 million shillings. You can help by sending your contribution to M-pesa pay bill number 784861 account name Baby Riiri