A plane crashed on Thursday around NAHCO area of the the Murtala Mohammed International Airport, in Ikeja after just taking off.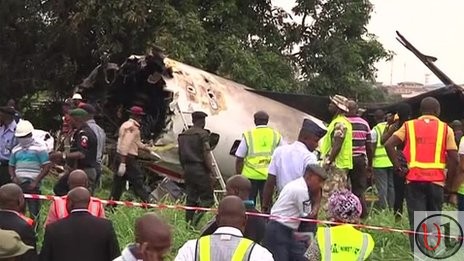 The aircraft, An Associated Airline, had 20 passengers on-board, and crashed as it just took off. It was heading to Akure, Ondo State, when the ugly incident occurred.
The crashed plane was carrying the corpse of ex-Ondo governor, Olusegun Agagu"s corpse and according to reports 11 people are feared dead.
A rescue operation is ongoing. At least five bodies have been recovered and one person is being treated for serious injuries.
The Associated Airlines plane was bound for Akure, which lies about 140 miles (225km) north-east of Lagos.
The plane's engine appeared to fail and the aircraft plunged to the ground and burst into flames, officials said.
The charter flight took off at about 09:30 local time (08:30 GMT) from the domestic terminal at Lagos's Murtala Mohammed International Airport.
Officials said the plane crashed on to open land within the airport complex, close to a fuel storage depot.
It is not yet clear whether the fuel caught fire.
Eyewitness Ahmad Safian told the BBC: "I heard a loud bang and then there was lots of black smoke. The security forces rushed straight to the scene. I saw three bodies removed from the wreckage."
Will keep you posted on the developments on going