A video of Friends School Kamusinga principal dancing to the Miondoko(kale ka dance) hit song by Rico gang ft Mbuzi gang has won the hearts of many netizens with his amazing dance moves.
The video of Mr Paul Weloba and students from Friends School Kamusinga has since gone viral on social media platforms especially on Tiktok with netizens taking it to share and comment about the principal's dancing skills.
The principal rocking in his student's school uniform came up on stage to show his exceptional dance moves during the school's annual talent show.
In the video, two students are seen joining him on stage as he leads with the moves and the rest of the students cheer him loudly.
Some netizens have gone out to pour their heartfelt appreciation to the principal through comment sections on different social media platforms, saying this great move that would make students perform in school and also grow their talents.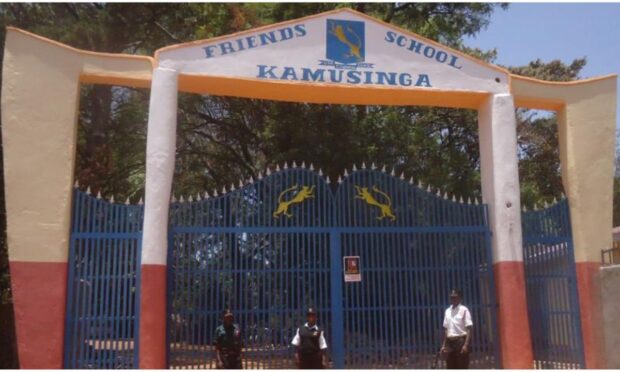 Here are some of the comments
Nelly
"My principal back in high school Mr Paul Weloba was the best."
billionaire
"Am going back to school. My teachers were not cool like these. These are the teachers we want"
Jane Davids-Paulse
"Congratulations. You got this. Your learners will love you forever."
Paul Weloba was made the principal of Friends Kamusinga High School early this year.
However, Weloba's journey to the helm of one of the best schools in Kenya started back in 1998, when former Alliance High School Principal Christopher Khaemba invited him to teach English and at the same time double up as a rugby coach in the school.
Before leaving Alliance High School Weloba successfully served as a teacher, coach, and Senior House Master for over a decade.
Afterwards, Weloba would go to rugby powerhouse Kakamega High School where he made history and a huge legacy for himself.
At Katch, he built a team that dominated the Kenya Secondary Schools Sports Association(KSSSA) and the East African Championships in 2012.
Under Weloba's reign at Kakamega High School, he helped them clinch the national 15s, 7s, East Africa 15s, and the Great Rift 10s titles without losing a single match.
It is also evident that Weloba helped shape the careers of notable players in the national rugby teams such as Alvin "Buffa" Otieno, Peter Alex Musee, Bush Mwale, and Mike Mulugu.
Before he was appointed Friends School Kamusinga  Principal, Weloba served at Shikunga Mixed Day Secondary School in the same capacity.