Heyz Da Brand of System Unit  (a graphic designer by profession) did an amazing Peace song with lovely brother Ramsoh called Amani, in which they also did a video for, to reiterate the message.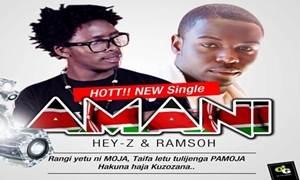 We sat with Hey-z and he gave us the details of how they came about with the song.
He starts by saying that, what inspired him  to do the song is actually a peace event which he participated in  :
"After Doing Peace Shows during the Campaign Period  from December, i felt there is a greater need for me to Preach Peace through the best way i know that being Song. "
A very important point to note is that As Kenyans we had gone through a very trying time, during the elections in 2007.  Looking back, it was really important for us to come together for the benefit of the country as elections come and go but Kenya Is Supreme.
So how did he did he come to make a decision on doing the single? 
"I shared the thought with Ramsoh and he decided to do the single with me. After that i went to speak to Jacky B and Deejay Mo and they both said its a catchy tune and a wise idea."
So after Talking to Jacky B And Deejay Mo what happened Next? 
So my work being of a Minister Of GOD i woke up one morning and decided to work on the Song. I spent my entire day in the Studio and finally i got out with the Jam AMANI.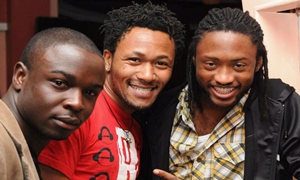 So After finishing the studio part, this is where you need a video director to put the message across in visual form.
"I Later rushed to meet J Blessing who loved the song and decided to  schedule for a shoot the same week. Luckily After an amazing 4 days we had a Song and a Video."
Finally here it is, the final product :  After talking To Deejay Mo (for advice) , Production By Jacky B and video By J Blessing.  Amani By Hey-z Da Brand And Ramsoh on Uliza Links