In an incredible turn of events, hosts England pushed the self-destruct button and failed to chase down a lowly 130 against India in a rain-curtailed 20-over ICC Champions Trophy 2013 final, after being 20 runs away from winning their first global One-Day International (ODI) tournament with 16 balls and six wickets in hand.
England lost four wickets for three runs in a matter of just eight balls and succumbed to an almost inconceivable five-run defeat — one that they stubbornly snatched from the jaws of victory — after India had posted a lowly 129 for seven on the board.
England's top four batsmen — Alastair Cook, Ian Bell, Jonathan Trott and Joe Root — had all averaged around and above 40 in the tournament prior to this match. Today, with a paltry target facing them, they could only manage 42 runs between themselves as India's spin twins turned the screws on the hosts. The pitch at Edgbaston turned like it had been transported from the Indian sub-continent; add to that a partisan Indian crowd and MS Dhoni's men would've felt well at home in the heart of the Midlands.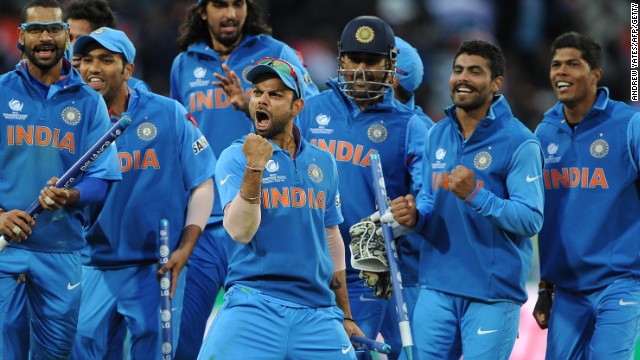 Umesh Yadav took the first wicket as he got English captain Alastair Cook to edge his delivery to Ravichandran Ashwin, who took a fine two-handed diving catch at first slip. The off-spinner then returned to inflict more damage on the Englishmen with the ball as he got the wickets of the dependable Jonathan Trott and the capable youngster Joe Root. Ravindra Jadeja then got out Ian Bell stumped in the ninth over to get the score to 46 for four; and it was game on right there.
England's middle-order hadn't really come to the fore in this tournament. Ravi Bopara was the only one who had a few runs under him; and he was to come to his team's aid again along with Eoin Morgan. The duo steered England out of trouble and all but took them home, hitting 64 runs in less than nine overs before Morgan threw his wicket away. At 110 for five with 20 win, it was still England's game to lose. Ishant Sharma, who had had a mediocre game till that point, then removed Bopara on the very next delivery, and all of a sudden it was back on.
Jadeja's vicious turn foxed Jos Buttler first ball in the next over to bring Stuart Broad to the crease. More pandemonium was to follow as a mix-up led to the run-out of Tim Bresnan to make it 113 for eight. In the end, the hosts fell short by five runs to hand over victory to the Indians on a silver plate.
Earlier in the day, as had been the norm for most parts of this 17-day tournament, rain played a dampener and ate into nearly six hours of play, even threatening to call off the match and force the two captains to share the trophy. For the Indians, it was a déjà vu of 11 years ago when a grim Sourav Ganguly had shared the cup with Sanath Jayasuriya. Today, Ganguly, who had traded his sky blue jersey for a crisp suit of a lighter shade, was part of the commentary panel and looked a concerned person as he strolled out to have a chat with the officials during the delay.

As for the crowd, which was a sea of India blue clad in the tricolour, mixed together with a sprinkling of English support, it stuck to its place throughout the lengthy pour and danced to the tunes of the stadium boombox, and saw the funny side when it played Rihanna's Umbrella. When the skies finally cleared and the two teams walked out for a Twenty20 match, it was the Englishmen who were greeted with boos while the 'visitors' were cheered on. Nearly 24,500 of the 25,000-capacity stadium erupted as Rohit Sharma edged James Anderson past first slip for the first boundary of the innings. Their happiness was to be short-lived, however, as Broad got one to nip back into the right-hander and bowl through his gates soon after.
Shikhar Dhawan, India's best batsman and the tournament's highest run scorer, meanwhile, got off to a typically positive start at the other end. Some of the shots he player just oozed of so much confidence in his own abilities. An upper-cut for six off Broad was achieved via a long leap in the air, while James Tredwell was swept magnificently for four wide of the deep square-leg fielder. However, it wasn't to be a day for the likely hero as Bopara came in and got Dhawan to drive him straight into the hands of cover to end the Indian batsman's love affair with the tournament.
With Dhawan gone for 31 — his lowest score in a tournament ridden with two centuries and a half century — it was as if India did not know what to do. The change in format did not help either, which was surprising given the Indians play so much Twenty20 cricket. But the 2011 World Cup champions slipped from 50 for one to 66 for five within five overs. Bopara, England's fifth-choice bowler, had figures of three for 20 in his maximum of four overs.
Virat Kohli, fresh from a half century in the semi-final against Sri Lanka, then combined with Jadeja to helpIndia wade through the marshes. The duo added a quick 47 runs in just over five overs before Kohli holed out to long-on which was manned by none other than Bopara. Jadeja then added 16 off the last nine balls to get India to a below-par total. As it turned out, they had five runs too many. Cricket county