Pornography tops the list of controversial topics not only in western world but also here in Kenya.
Its not too late to accept Christ.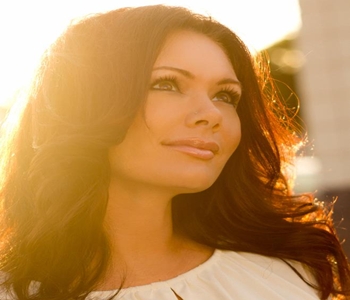 Some fathers/women and young adults frequent websites filled with explicit sexual content and beautiful women involved in these acts. One of these women, Crissy Moran, made a more than comfortable living as an adult actress- her website earned her over $15,000 a month.
However, Moran left the industry in 2006 and never looked back, deciding to rededicate her life to Jesus Christ.
Moran, now 37, was raised by Christian parents who divorced when she was 14, just 3 years after she accepted Jesus as her Lord and Savior. Her father suffered from alcoholism after splitting up with her mother and his condition led Crissy to believe that God had abandoned her.
Despite his constant drinking, Moran's father still preached abstinence until marriage to her, while her mother's outlook had become less and less influenced by Christian values.
The confusion lead her down the wrong path, and Moran started pursuing a career in pornography in 1999. After posting revealing pictures of herself on the internet, Moran was offered jobs modeling in Miami and Los Angeles for Playboy and Hustler. She eventually moved on to creating her own pornography website and performed in over 40 mainstream adult films after moving to California.
Moran found financial success, but admitted to that she never enjoyed the job, deeming it "unnatural." Her career in adult films lasted until 2006, when she finally decided that the sex industry wasn't for her anymore. She now works with Treasures, a non-profit organization that helps women leaving the sex industry. Moran recently spoke with CP and revealed much about her life and experiences.
So How Did She Meet Jesus ?
"When I was in the industry, I had a lot of conflict with what I was doing. There was no mention of God by anyone in my life. I was a serial dater and I always had to be [involved] with a man and they didn't speak about Jesus to me. So, I was searching for something the whole time I was in the industry.
My last year there I was in a serious relationship with a guy. I lived with him and he was the first man [I dated who wasn't abusive]. I thought he would be the person I would marry. Even though our relationship wasn't perfect, I thought it was good enough. He didn't really care [about me working in pornography].
When we were dating I expected him to be loyal to me and [not look upon other women] with lust. Part of that expectation came from what my father taught me growing up. Even though I was in pornography, I didn't work with men so I expected him to be loyal. I got him work in the industry since he was a photographer. [While he was on a business trip,] he went to strip clubs and lied to me about it. I was so upset and broken over it. Eventually he convinced me to come out to where he was filming and meet him and when I got there he tried to win me back.
During my [visit, I went to one of his shoots]. While there, one of his friends got a text message … guys there started passing it around laughing. I asked what they were looking at and they told me it was one of their wives posing topless. Out of nowhere I got really angry and I said I would hope that when I'm married that my husband would not be passing around pictures of me topless or nude. Everybody started laughing, but the guy to my left said when I get married I wouldn't show pictures like that to anyone. I was in shock!
Later on that day, he and I started talking. He asked me what I did for a living. I said modeling. He asked me what kind and kept prying. Eventually I told him I did pornography. He said he knew already and that my boyfriend had told the guys and then he asked me if I believed in God.
I told him yes and he proceeded to preach the Gospel to me. I started crying and he asked me if I wanted to rededicate my life. I said yes. [After that], I didn't do any more shoots and stopped accepting any income from pornogrpahy."
TO GOD BE THE GLORY!! If you haven't given your Life fully to Christ Choose Him Today