Mwanga Band a movement of young people dedicated to carry out professional and anointed worship to touch heaven and to change earth! are heading to coast.
Their main message is for people to be the light wherever God has placed them – at home, at work, in Church, with friends etc. Matthew 5:14-16, their theme verse, puts this message in the best way "You are the light of the world.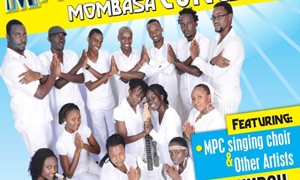 Their Press Release gave the following news :
"The Mwanga Movement is taking a trip down to the Coast for Tangaza Mwangaza Mombasa! Their first event was held on 1st December 2012 and featured Adawnage and Zidi the Band. The Mombasa edition, just like the Nairobi edition, is free "because Christ already paid it all!"
It begins at 2 p.m. and will feature the MPC Choir! Mark your calendars as Mwanga comes to Mombasa to Tangaza Mwangaza! Invite your family and friends."
The Event will be on 31st March at Mombasa Pentecostal Church.
Here are the details: