Palm Sunday  is a Christian movable feast that falls on the Sunday before Easter. The feast commemorates Jesus' triumphal entry into Jerusalem.
A few weeks after the unveiling of  Pope Francis as the new pope to head the Roman Catholic Church, Catholics in Kenya and the world at large congregated yesterday  to  celebrate Palm Sunday.
In all Catholic churches  in the world including Kenya, the day was marked by the distribution of palm leaves (often tied into crosses) to the assembled worshipers.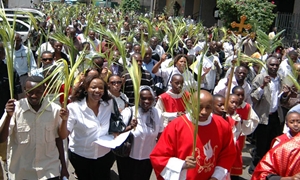 To really get more details on palm Sunday here is a video that was nominated as the best religious short video in the 33 Telly awards that honors very best films and video productions.