As always we like to keep you on informed of what our brother and sister Dj Moz And Kambua are up to to their show Inuka On Hot 96.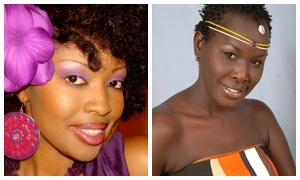 On This week of unplugged Wednesday they hosted praise and worship singer , multi award winner on gospel ministry Emmy Kosgei. This segment was truly an interesting session as (Groove Award Female Artiste Of The Year) Emmy Kosgei shared with them on how she has kept her music more of traditional in nature taking into account this urban time.
Emmy Kosgei comes out as an artist/musician who sticks to her roots in her singing which is usually in Kalenjin language. She said that what inspired her to sing in traditional nature is because she loves and adores South African music, as she said : " Its more deep to the soul as you connect with the music."
Further on Emmy did an unplugged version of Nishikilie by Kambua and also Kambua couldn't afford not to join in.
Listen below to the clip as what we do is to Link you all you need to is Just Ask
Introducing Fresh And New Nishikilie By Emmy Kosgei Ft Kambua on Uliza Links