These lovely women of faith always amaze you by their singing not only are they full of passion in singing to the Lord but they also have the Love for their country. They did a peace song initiated by David Robert, a while back meant to put their country together from the force of division of Peace.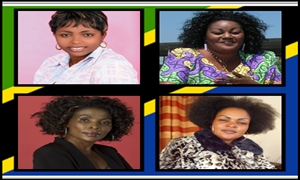 The song is Called "Iponye Tanzania" and is done by different artistes from the gospel ministry in Tanzania and they include : Upendo Nkone, Christina Shusho, Rose Muhando, Bahati Bukuku, Masanja Mkandamizaji,Jennifer Mgendi ,Flora Mbasha,Martha Mwaipaja and Upendo Kilahilo.
From our source we have the exclusive music by the artists but most importantly is to say we are humbled by the efforts of all these artistes , directed towards the good of their country.
Here is the Song Iponye Tanzania Exclusive on Uliza Links