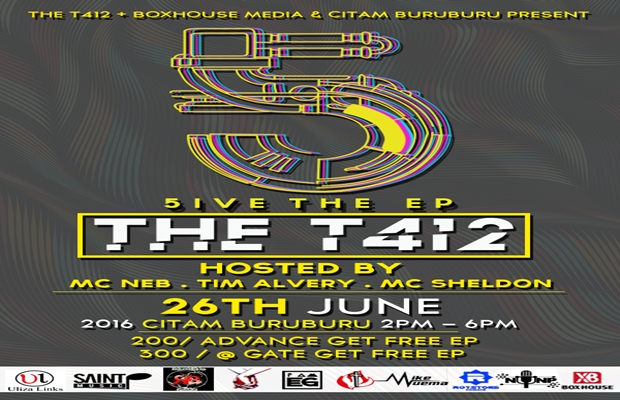 5 Songs by 5 of Kenya's top audio producers, in different music genres by the 5 member group T412; as they celebrate their 5th Anniversary. Jemedy, Clive, Milome, Muhanji and Eutychus are set to  launch their EP dubbed 'The 5ive' on Sunday next week(26th) at CITAM Buruburu.
The day marks another milestone for T412 . On this EP, they have incorporated Kenya's biggest producers. The likes of Saint P, Mike Muema and Ngalah the brand-who has supported the team and been like a big brother to them- among others. The group has also teamed up with five of the country's freshest hiphop talent to bring you music that will definitely impact and leave a mark.
T412 is one group that has managed to stand out in our industry far away from the scandals of the day. They have instead managed to remain together, dedicating their time to active ministry and mentorship. Their foundation is in the church, where they have been well grounded. They have been under the much needed mentorship of Christ Is The Answer Ministries(CITAM) Church- Buruburu, where they met. Speaking to Uliza Links, they shared that in the long run, they plan on being fully involved in the music ministry. Furthermore, T412 have made it their intention to stay together as a group.
"A chain is as strong as its weakest link, and so we put in extra effort in ensuring that we are accountable for each other, praying together and conducting our regular Bible Study among other activities."
T412 is based in Eastlands Area, which is famous for youth related vices. They carry the burden of positively impacting them with the gospel, a task which they have welcomed with open hands.
The tickets to the EP Launch are available for purchase. Each ticket is accompanied by a copy of the EP.
ADVANCE TICKETS: Kshs 200
AT THE GATE: Kshs 300
CONTACT- 0700412412 OR 0710921699