A few weeks back, Brian Mwenda was arrested for falsifying his documents and parading as a lawyer. His story got so much local and international coverage due to the fact that he had represented many clients and won 26 cases.
He was put in custody last week while he awaited his court proceedings. Prior to his arrest, Brain shared that he was willing to cooperate with the authorities. He also had a lot of support from Kenyans online and former Nairobi Governor, Mike Sonko.
Yesterday, he had a court session where his lawyers were pleading that he should be released on bail. The prosecutors however wanted to deny him bail citing that he was a flight risk and he should be kept in remand.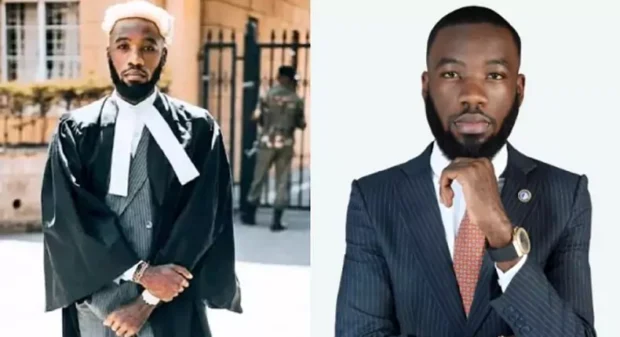 Brian Mwenda however got freed on a cash bail of Ksh 200,000 and is set to have his court case mentioned on November 7th. According to Milimani Chief Magistrate Lukas Onyina, the prosecution failed to give sufficient reasons to deny him bail.
Brian was with Nyako and Sonko and shared his excitement about meeting Nyako during a live session on TikTok. Brian mentioned that he will be having his live TikTok session later in the evening.
For the Kenyan women who were eyeing him and sending him DMs, they are now disappointed. The lawyer shared that he is not in the market and has a woman whom he is grateful for. He expresses that his better half has been supporting him through the scandal.
This clarification comes after Nyako asked him whether he was single. Sonko added that he had already shared publicly that Mwenda was not single and was seeing someone. Brian went on to add that Sonko knows her already.
"I'll be back on TikTok later this evening. I'll probably go live we can coordinate that. So tumefurahi. I actually have somebody. They both know her. She is a lovely human being and she has been there for me through this process."
Sonko went on to tell Nyako that Brian would go back to school to pursue law. Brian shared that he will be studying online instead of traveling for a period of three years. This was due to the fact that he had an ongoing case against him.
"It's going to take three years. First, we are looking at an option for pursuing it here, that's virtually. Because we have now these ongoing cases."
Brain shared that he could not talk about the ongoing case but was grateful to the people on TikTok who have supported him all through the unfolding of his case.