Nairobi gubernatorial seat aspirant Esther Passaris has come out to thank Pastor Robert Burale for supporting her when she was being abused by another gubernatorial aspirant Miguna Miguna. This took place during the the Jeff Koinange show which airs on KTN.
Renowned social media guru, Xtian Ndela leaked a video of the two aspirants exchanging words when the show was on a break, and there we see Pastor Burale standing next to Esther and whispering something to her. Esther took to twitter to thank Robert for his support.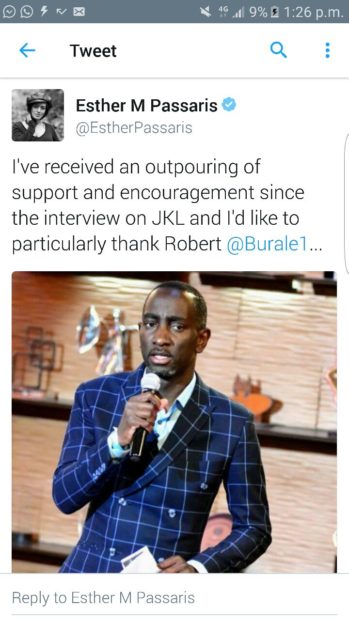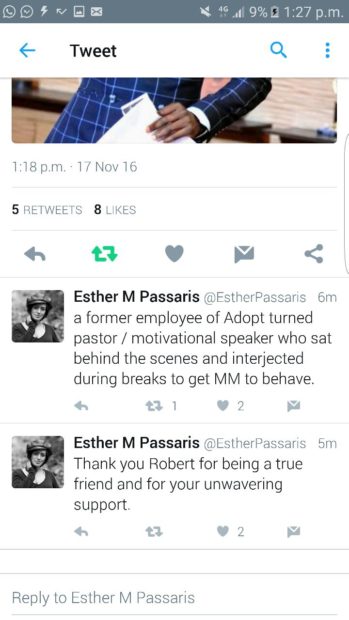 On the other hand Robert Burale took too facebook to answer to claims that he did not support Esther Passaris when she was being attacked by Miguna Miguna and this is what he wrote.
Njeri Mburu "Am really disappointed in you #IsraelRobertBurale# for even finding what Miguna is saying amusing.I watched the uncut behind the scene video n saw you get amused as Miguna brought down Esther…What a shame!👎🏽"
Israel Robert Burale: Njeri Mburu.."please get facts first. remember I was there with Passaris… she is my friend and my client and I used a strategy to diffuse a situation. if you expected me to go shouting the way miguna did then you would have to wait a looong time. Kutsuru Jairus has put it clear … I went diplomatic and not guerrilla… by strategically placing myself between Passaris and Miguna I was assuring Esther that "I got your back" ..She knew what I was doing all along. And during the show I was standing right in front of her (but off camera) and if she had had enough of it she would have given me and my team a sign and we would have got her off the show.Esther endured abuses in the hands of miguna but it exposed miguna s real motive . I cannot laugh at my friend and client. Believe me if she gave us the sign ..we would have told her to walk away. Esther is a strong woman"