Follow You by Praise and worship Singer Gloria Owendi Muliro is definitely a well composed praise song. Not only does the video feature amazing gospel deejays like DjMo, DjSadic, Dj Touch and Deejay Krowbar but actually the message is a blessing too.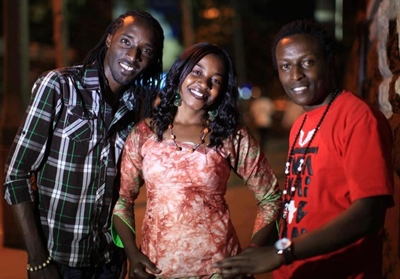 Follow You can be related to the the book of Ruth 1:16-17, where Naomi Asks Ruth to follow her Sister in Law and Ruth responds by Saying :
"16.Don't urge me to leave you or to turn back from you. Where you go I will go, and where you stay I will stay. Your people will be my people and your God my God. 17 Where you die I will die, and there I will be buried. May the Lord deal with me, be it ever so severely, if even death separates you and me "
We have the Lyrics for Follow you here with us and here it is :
Verse 1 :
1. Unaponipeleka
mie si lazima nijue Unachoniwazia mie si lazima
nijue Njia zako hakika Mambo yako sambamba
Mipango yako sawa,sawa Njia zako hakika Mambo
yako sambamba Mipango yako sa.a……wa
Chorus
where you go,al go,where you stay al stay,where you move al move al move,i will follow you!!
Verse two :
2.hakuna dhiki kwako,hakuna chuki kwako,wala unafiki kwako,baba kwako,ni marafiki kwako,kuna amani kwako,baba kwako,hakuna vita kwako,hakuna magonjwa kwako,wala talaka kwako,baba kwako
kuna upendo tele kwako,furaha kwako,umoja kwako,baba kwako
You Can Sing Along in the video below.
http://youtu.be/xeMfmRaAJCw