The biggest rugby tournament in Kenya
Safaricom 7s

was hosted at Kasarani sports stadium from Friday 20th and Shujaa team from Kenya came on top.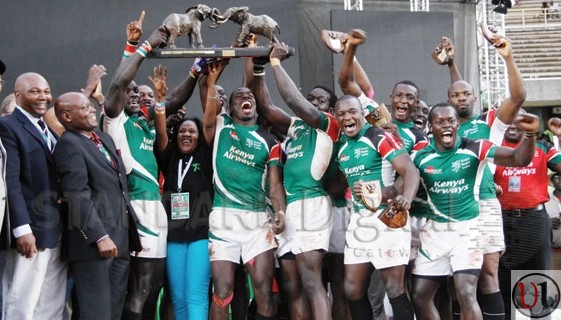 With the continuing terrorist attack that hit the Country Westgate Mall on Saturday September 21st the tournament organizers were in a tight position of whether to stop or continue with the tournament. Finally a decision was made and the Safaricom 7s continued as planned on Sunday 22nd September with Kenyans coming out in numbers to support the Kenyan Spirit for the love of Rugby.
Even after England 7s pulled out of the tournament for security reasons Kenya team was set to clinch this ultimate crown. Shujaa were to face Australia in the prestigious final which ended in favor of Shujaa with a 40-7 win.
The Shujaa team after the win stated that they dedicated the win to the Westgate Victims as we are one Kenya. This was really an encouraging statement from the team looking at the fact that the country was undergoing a trying moment due to a hostage situation at Westgate.
The Winners list was as follows:
Main Cup Winners: Kenya Shujaa
Runners Up: Australia Renegades
3rd Place: Kenya Morans
4th Place: Western Province
Plate Winners: CBA Samurai Sportswear
Bowl Winners: Grenoble
Shield Winners: KCB
Jug Winners: Uganda