After a great story yesterday we now present part 2 of the story of christian singer Esther Mpaka who was declared dead by the doctors but after calling out the name Jesus in her death she woke up.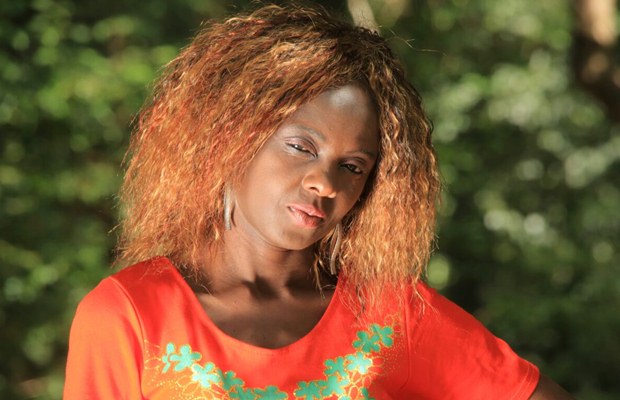 She continues :
"I had gone to the hospital for a simple surgical operation but as soon as i inhaled the anesthesia my soul left my body and began descending into a bottom less void, full of piercing darkness and it felt like being flushed down the toilet basin.
I could see fire approaching as well as screams of pure agony from souls that came from beneath. I was so horrified and tried to get back into my body but I felt like a prisoner in that darkness. By the grace of God my spirit remembered who I could call on for help and that name was "JESUS ".
I tried so hard to call that name the first time and nothing seemed to happen but when I called on Him, the second time, suddenly I got back into my body and sat up from where my body had been laid waiting as a death confirmation case.
The nurse on duty screamed and ran away and to my surprise I realized that in fact it was just my bare body wrapped in blue linen. I felt so confused at everything because she just threw my clothes at me from a far,told me to pick my medication from the reception and then left hurriedly. She clearly did not want to have anything to do with me.
I felt very weak, put on my clothes, passed through the reception to pick my medication and to my surprise I noted that I had been in that state from 3.30 p.m to almost 6.30 p.m. But my experience just seemed to be 10 minutes.
Eternity is time less that is why the bible says in Psalms 90:4 a thousand years are like a day in the sight of the Lord. I did not care about the doctors where abouts as all I wanted was to get out of that place and forget that whole night mare.
When I arrived home I met my sister and to my surprise the first thing that she did was to look at my arm and told me that she had dream't that I would go to hospital that same day and go through a bad experience. She told me that she had been praying about it and was pleading with GOD to help me survive it. Luckily I did and GOD did give me a second chance to live right."
THE TRANSFORMATION AND CHALLENGES
People would think that once some one is transformed life changes in a snap but for Esther Mpaka it was another journey of challenges. She continues :
"From that day God empowered me to compose music that is aimed at delivering souls from ever going to hell. I am lucky JESUS saved me from the corridors of hell and promised never to let me go back there as I was not born again yet. It is surely the worst place I would wish for someone to end up in and no other name can save us but the name of Jesus.
In 2009 I managed to study music up to grade 4 from a youth sponsored institution in Nakuru. By that time I was already an intercessor and a member of the worship team of the local church I was attending. In fact it was during one of the worship teams night vigil that a music producer from Nairobi visited the group to seek for talent. I took his contacts and came to Nairobi with so much hopes in 2011 but that project never took off.
I was jobless, house less and with no contacts so I decided to work my way out of this hole that I found myself in. I had no desire to go back to theater arts industry, though it was vibrant because I felt God was leading me to concentrate on ministry work.
By the grace of God while in Nairobi, i joined one of the churches found a place to sleep on the chairs at night and shower in their toilets in the morning. The pastor in charge saw my potential as an intercessor and offered me an opportunity to work with them, for a small pay that could hardly pay my rent.
THE LIGHT AT THE END
After around 3 months of being house less and with so much disappointment from people I luckily met a friend who could help me, she offered me a place to stay in Githurai 45.
All these time I never wanted to go back to Nakuru where my child was living with my family as I wanted to something that GOD had called me for, which was music. With continuous effort I pushed myself as I went through a hard time trying to find producers for my songs until the year 2014 when I finally recorded my first song. It was a challenge for me not knowing how the industry works but I managed to overcome it.
Later on God sent me divine helpers whom I could not understand how he used them to help me to do my projects. I just thank Him so much and for the Grace to go back to script writing and fine art paintings which is my passion.
I managed to move out of Githurai in early 2014 and I can say that I have seen God do so many miracles , especially when I used to work in the church. ( But that is a topic for another day that I may need to write a book or make a movie to exhaust it fully ).
MY FINAL WORDS
At this time I want to emphasize on the need for us to be taking very seriously the voice of God when He instructs as to do anything because it requires lots of sacrifice. In fact that is exactly what my song pole pole emphasizes on.
It is very important for believers to listen on the voice of God. This does not come easily because , you can only learn to trust after going through so many trials and temptations, yet GOD remains faithful to the end.
Maturity is when you accept and do what God wants even if it does not make sense and sacrifice when required without murmuring. Obedience is key to winning battles because we need God on our side to overcome satan. These includes paying tithes,offerings and submission to leadership.
You can find my paintings on my face book page (Esther Mpaka) ,my audios on bonyeza
*699*880#

and my video titled " pole pole" official video by Esther Mpaka on you tube.
God bless you all
https://youtu.be/bourEJv93Iw