Police have taken in the man termed Meru James Bond for willingly hanging on Cord Leaders chopper while leaving Meru. Though termed risky the man decided to pull the stunt that left on lookers in Meru surprised and screaming by his move.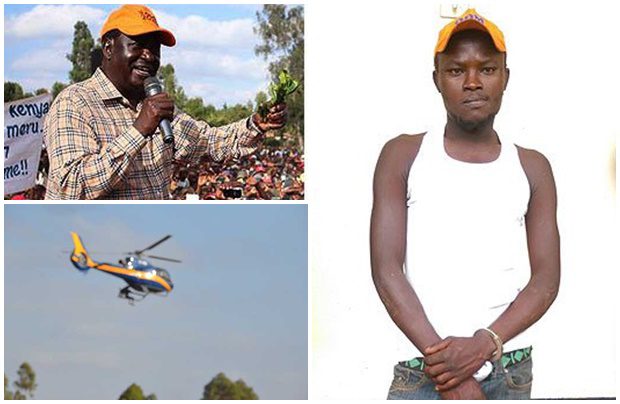 The man overwhelmed security officers when he clung on the chopper at Maili Tatu grounds in Igembe Central when the former Prime Minister was taking off to Nairobi.
The cops who were available were gotten unprepared when the man held on the chopper's slips amid lift­off and began waving to the group.
At the point when the pilot heard shouts from the group he attempted to back off to permit him land however the man kept sticking onto the chopper waving to the group.
Occupants said Mr Rigo had pledged to go with Cord pioneer back to Nairobi as that was the main shot he could have a chopper ride.
"He was stating that he needed to board a chopper for the principal day and that must be Mr Raila Odinga's," Mr John Mwiti said.
Local people had blamed police for laxity taking after the occurrence saying the suspect could have been halted if the officers present were cautious.