This is that time again where teens aged between 13- 22 get an opportunity to showcase their talents in the Teen Rapper/Rap Group The Year.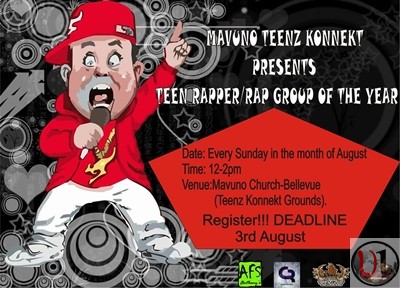 Do You Want To be The Teen Rapper Fearless Influencer?
The place to be the month of August is at Mavuno Teenz Konnekt for the 2nd edition of TEEN RAPPER/RAP GROUP OF THE YEAR.
Registration is going on and deadline for registration is 3rd August. You may register at the Mavuno Teenz Konnekt church grounds or contact them on their face book page (Click Here)  with your details:Name,Stage Name and telephone number.