Gospel singer Kirk Franklin received the Bobby Jones Best Gospel/Inspirational Award at the BET Awards on Sunday night.
He arrived at the award ceremony with his beautiful wife Tammy. Other international gospel ministers at the award included Erica Campbell, Anthony Brown & Group Therapy, Lecrae, Tasha Cobbs and Tamela Mann.
Kirk Franklin in his acceptance speech said to the audience: "I know these are very, very difficult days and we've had a lot of loss and a lot of hurt — and I want you to know that even when you feel like you've hit rock bottom, often you find that God is the rock at the bottom."
America has been the headline of late based on the laws that are being passed which have led to a decline in the citizens' Christian morals. Also, they have been multiple shootings in the country.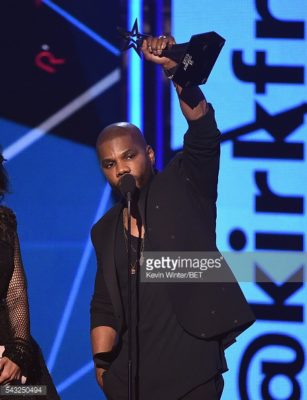 He went on to say, " … I'm going to keep telling the world that I believe that Jesus is still the light of the world."
Later that day, he expressed his appreciation to his listeners via a video he posted on his Facebook Page saying,"I realize that, you know what I haven't done in a while? I haven't told the people that support my music — that support the ministry — I haven't told y'all 'thank you' in a long time. Right? This music would be nothing without you."
"I'm very grateful for the award tonight. I'm very proud of my brothers and sisters that were in the categories. Y'all put out great bodies of music. Support the music, right? Because it's good music."
Franklin finished saying, "We want y'all to know we love y'all. Thank you for supporting us."
Kirk Franklin whose latest album is titled 'Losing My Religion' has come under heat from many due to his new way of sharing the gospel which includes associating himself with secular artists like Kanye West.