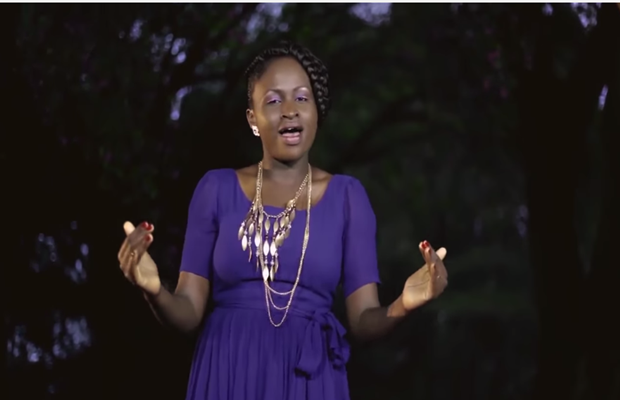 In all cases constant Mercy Masika should scoop the female artist of the year at Groove Awards 2016 without a doubt. This should happen because her songs Mwema and Nikupendeze have been one of the most requested songs on tv and radio shows across the country in the year 2015-2016.
If all were to be called a spade a spade then NTV presenter, Larry Madowo, would be on the front line after backing her up to win the accolade during her first interview on the Trend.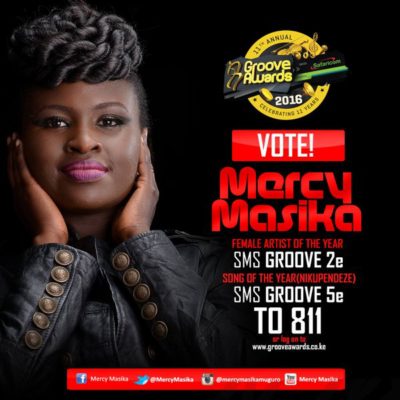 Since her music hiatus in 2012 after releasing Emmanuel Mercy Masika decided to try something new in 2014 by allowing Mr Vee to write for her a song that was recorded at Still Alive Records.  No sooner had it neared 2 months after release than the song started getting ernomous airplay on main stream media.
A year later her song Mwema was seen by many as the song of the year but with the stiff competition from Lingala Ya Yesu and Barua, Mwema failed to scoop the award for 2015.
Without losing hope Mercy later released Nikupendeze at Still Alive and within 3 months the song was over thousands views on you-tube (now currently at a million). This was when everyone started speaking of Mercy and how far her music has touched souls in clubs and churches.
In April 2016 the hour of waiting had finally come and on the nomination gala at KNT she was proudly nominated in two categories in the 2016 Groove Awards.
Her song 'Nikupendeze' was nominated under Song of the Year and the other was the female artist of the year alongside Eunice Njeri, Gloria Muliro, Janet Otieno, Evelyn Wanjiru and SIze 8.
Without a doubt Mercy Masika is a household name and 99% she should win the female artiste of the year. But with everything being in the power of the voters probably their might be a surprise that we do not expect when the winner will be unveiled.
In everything she remains a humble person, despite the fame that shines on her. Often, she thanks God and her listeners for allowing her to minister through her songs.
What is your view?