Holy Dave (HD) has released a new track with one young lad known as G- Cho called Chapa Kazi. This track talks about putting all you got in working hard as nothing comes easy.  If you dont put effort in work then no one will place a plate on you're table all you got to do is work hard.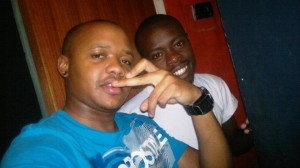 The Song is produced by "Baba wa mdundo" Jacky B Jack who has been working hard also to produce awesome beats for the Christian Family. In Brief Holy Dave Says that :
'Chapa Kazi' is the ideal work song. Often in life we want to take shortcuts. We want to idle and still eat.We want to lead a mediocre life and still be successful. Despite the fact that we all know for sure that"easy come easy go". 'Chapa Kazi' encourages us to live a sustainable lifestyle and to work hard for what we want.
It also acknowledges that we should commit our work to the Lord who is just and sees how
hard we work."
Listen to the Fresh and New on Uliza Links Chapa Kazi Holydave featuring G-Cho