Kenyan Gospel singer Daddy Owen found himself in a bit of a mix after he was spotted with Kenya's very own first daughter, Charlene Ruto. Kenyans were curious to find out the nature of their relationship.
According to pictures posted by Daddy Owen, the two were seen together in what looked like they were playing basketball. The two who are both not married seen together sparked rumors of them possibly dating.
The Saluti hitmaker finally put to rest the curiosity when he revealed the nature of his relationship with Charlene Ruto. During an interview at Milele FM, he got to share the nature of their relationship.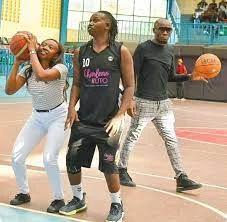 Ankali Ray a presenter at the radio station directly asked Daddy Owen how Charlene was doing. The gospel singer tried to dismiss the question adding that the topic was sensitive and would possibly land him in trouble.
"Aah, hizi ndo gani? Bro unajua kuna zingine hufai kuongelea. Zingine ni noma bwana, uko tusiende. Wewe ni brother yangu siwezi taka kukuweka kwa noma."
Pressed by Anakali to share the nature of his relationship with Charlene, he finallyngave into the pressure and said they were just friends. Adding that they were also partnering to do projects together.
Daddy Owen expressed that having been in the entertainment industry for years, he understood the reason why a picture of him and Charlene would raise curiosity amongst Kenyans. He added that he has learnt that netizens are quick to speculate.
The Milele FM presenter also took a shot at asking whether Daddy Owen knew the relationship status of the first daughter. The singer was careful with his words and advised Ankali to directly ask Charlene Ruto.