A Touching Story that we got on a week ago and we felt its appropriate we share with you Link  Family.
BLIND YET I JAMES FINDS HOPE IN THE LORD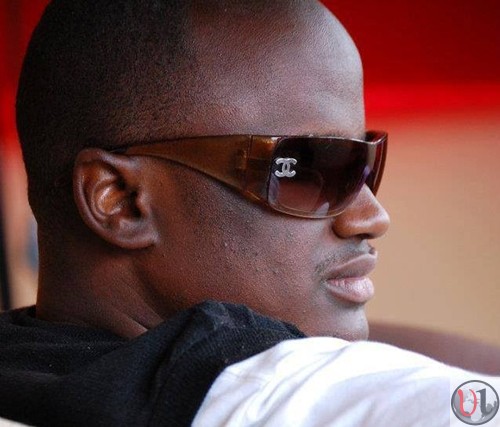 My name is James Karimniru Mugi, I was born 7th, April, 1987 in Kiserian Ngong. My artist name is Jemmo. I was born as a normal child but at one month old my life took a turn over. A beautiful sunrise, warm smiles from loved ones and other beautiful sights were unthinkable for me James Karibiru Mugi at a young age.
Young Boys at their early ages love playing football and climbing trees but this was not the case with me Mugi due to my visual impairment. Due to disability, I was forced to grow and study in a boarding school far away from home town. What a life it was to grow away from the home and from the mother's love?
For more than twenty five years ago, I was born in a family of three boys; Simon Karuku, Michael Gicharu who was totally blind and Richard Njoroge who partially blind. After the death of our father in 1986, we were subjected to poverty as our mother struggled to provide for the needs of her children.
Illiteracy and Disability
I was born just like other normal children with my two eyes and healthy boy. I lived as a normal boy until I was one month old when I developed an eye infection which was believed to be inherited from my dad who had eye sight problem.
My mother was advised to take me to a renown traditional doctor for treatment. She took me for prayers and after prayers my eyes were healed but after one week the same infection returned and this time I was taken to Kenyatta National Hospital for Treatment. The Doctor who was treating me opted to remove my eyes,
My Family rejected
My father was called Henry Peter Mugi. He had two wives and my mother was the second one. In the year 1986, my father developed high blood pleasure and in November of 1986, he succumbed to the disease.
After the death of my father, my family's lives changed to the worst. During the burial, the church did not recognize my mother and her children for it did not advocate polygamies marriage. My mother underwent a lot of challenges being a second wife in a polygamies family. She had to struggle in bringing us up. God never left us alone and He has been our true father and He saw us through.
By the time dad died, my mother was six months pregnant. In the month of April 1987, my mother gave birth to me. When I lost my eyes we were three of us who had sight problems.
When dad died problems knocked at our door. Life was hard, many times we went to bed without eating anything, yet my dad's other family had more than enough. God never left us alone for He never allowed us to go two days without food. One day we were about to go bed for the second day without food, and from nowhere, my step brother who is the first born of my step mother 'big mama' visited our home and gave my mother one hundred Kenya shillings which she used to buy food.
Another day when we were about to sleep on empty stomachs, my uncle came visiting us with a shopping of food. One thing that I cannot forget to thank God for is the fact that He has a good plan for each of us in mysterious circumstances, my eldest step brother stood on our side even when his mother was for our death". Apart from loosing our dad, we also lost our brother Michael in 1991.
Early Days after the death of Daddy
I recall how our early years were difficult growing up as a disabled child. As far as I can remember, life in those early years was very difficult. My mother who never saw herself in school was really struggling to make ends meet. My mother was forced to drop out of school at class two by my maternal grandfather, since girl child education was not considered important in those days. My grandfather valued a girl child as an object for marriage in order to get wealth in form of dowry.
Having undergone such predicaments in her life, my mother tried all that she could to make sure that the same thing will never happen to her children. Since she did not have any technical skills, she could only do trial and error jobs; but even with these, the basic needs could not be met adequately. More often than not, we went to bed without supper, or would have to skip breakfast and lunch to have dinner.
Due to my sight problem, I had to go to a boarding school in Thika which it was far from home. This was hard to my brother Richard whom we were taken there with, mother and me. When we were taken to school at the beginning of every term, we used to cry for our mother not to leave us to study behind.
With time my and I got used to it but our mother did not, every time she took or came to visit us at school, she used to cry, she could sit on a stone at the school gate and cry before she went home. I never understood why she used to cry, is it because she was leaving us or was she crying because of our condition?
I was not able to continue with my school for my finger nerves could not sense Braille; instead I was taken to a special class in the same school where I learnt English and other basic things. After which I was forced to back home where I stayed doing nothing apart from singing in the church praise and worship team on Sundays.
I could wake up and listen to the radio the whole day; this was the trend for 15 good years. This made my mother cry every morning seeing her child doing nothing the whole day yet I was talented with the gift of singing but she could not help in any way instead she used to tell my brother Richard to work hard in his studies so that one day he will be able to help me with my talent in music. In the year 2008, I did my first music CD but never did well since it was on audio.
The Doctor's tears
My brother Richard lost his left eye when he was one year old. The doctors at Kenyatta National hospital removed Richard's left hoping the infection would not shift to the other eye. At the age of four years, the remaining of Richard's eye developed an infection and my mother took him back to the same doctor.
He insisted that the eye should be removed; this would have made Richard totally blind. However, my mother was told of another Eye hospital and dashed Richard there. This new doctor was called Dr. Wood, Dr. wood shed tears after seeing what the doctors at Kenyatta had to our eyes.  He could not believe a doctor would remove the eyes in err and not save them.
My mother could not afford the money and so Dr. Wood decided to operate my brother Richard free of charge. From the operation, Dr. Wood was able to save Richard's eye and gave him eye glasses that help him a lot in his movements. I
thank God that my brother can see even if he is short-sighted with one eye. Even if he cannot read or see well, he can move well with his sight apart from moving during the night since vehicles lights affect him. With his short eye sight, we are able to move around and I do thank God.
The done of better days
Despite of not getting formal education, I have done a curable with Denno of "mbona mbona song" Deno is a well know musician in Kenya who is also a blind person. The songs were performed for the first time on 2nd, June, 2013 at Deliverance Church Kiserian. The songs are meant to market me as an upcoming artist.
I do my recordings with (still a lives records) where the producer understands my challenges in writing songs so he makes tracks which he gives them to me to listen to them and come up with words then we record the songs. This method has assisted me produce my own music. I have finished my music album and is hoping to start selling them when the videos are out. Production finance is a challenge but I trust God for bigger things.
Pastor Nathaniel Kariuki, who focused on my talent, assisted me financially and technically, in having NIPE NAFASI recorded. I believes that in the next five years, with God's help, my music will be heard beyond East Africa and because of its quality and not sympathy. I have never heard any professional training but picks tit bits from interacting with musically inclined groups and people. I also listen to radio and television to improve my gift. I am a strong member of the praise and worship team in my church and I communicate in English, Kiswahili, Dholuo apart from my mother tongue, Kikuyu. I also sing other people's songs where my listeners with such ease that a less keen ear always confuse me for the original artist.
My mother's story
My mother is called Margaret Wanja, 53, who sells porridge at the Kiserian slaughterhouse. On a normal day, she sells a 20 liter jerry can of porridge at about Ksh600, at Ksh10 cup. The special fermented porridge is made from maize and millet flour. She became alarmed when her first two sons, born in 1977 and 1978 went blind during infancy. A doctor in a national hospital believed that the children were inheriting our genes which were causing blindness and suggested her husband and her stop having more children but she declined. In her desperation she ran to her maternal home in Dagorretti for refuge and counsel. Her father disagreed with the doctors' opinion and said he preferred more grandchildren, with or without visual disability. She had no choice but to go back to Kiserian. Her first four children including a daughter died in infancy. Wanja, who is semi illiterate, went ahead to get Richard and me James, who was born three months after the death of my father.
The community rejected her believing her children were a curse but she never gave up. She had to survive through thick and thin. A friend whom she refers to as Mama Olive introduced her to clothes material business. She would buy the material at Namanga at a lower price and ferry them to Kenya. She changed direction when this magendo business landed her in the cold cells of Namanga.
She spent two cold nights with me baby (Jemes) at the boarder police station after being caught ferrying the material, illegally. The police confiscated the materials before we were arraigned in court. Mama Olive paid her fine which was ksh 500, a lot of money at that time before she was set free.
She now entered Tanzania through Loitoktok. With nobody to leave me with, she would take the night bus, buy the material at Tarakea, Tanzanian side, during the day and take the night bus again, back to Kiserian. She used to tie the materials around her waist then put on a free dress, appearing like a well fed woman.
This trade had too much hustle including perpetually trying to evade the police, clients refusing to pay or paying in bits. She settled for porridge business which gives more time to operate from home and attend to other domestic duties.
Her first son Simon Karuko and last two children, from a second marriage, David Njunge 17 and Esther Wanjiru 19, have normal sight.
IF YOU HAVE BEEN INSPIRED BY THIS GREAT STORY CONTACT James On jammomusic@gmail.com ( Facebook Page )or contact us on our number below if you wish to interview James.