This Friday 26th July its all set out for total worship at the House Of Grace in a worship experience dubbed Friday Night Live.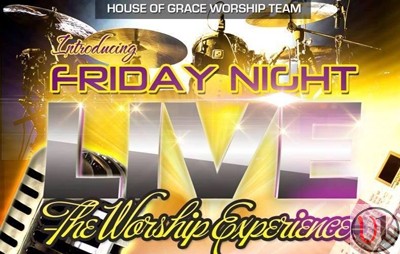 Its all about Jesus as we usually sing at that moment when we connect with GOD through Worship. This will be the same focus on Friday Night Live as the worship experience will be headlined by Award Winning Worship Singers Kambua Mathu and Pastor Mercy Wairegi.  They will not be the only ones leading worship at the church as TPF Winner Ruth Matete and Praise Dancers will also be there.
If you will be around keep time and have the moment  of worshiping and exalting GOD. Time is from 6-9 Pm House Of Grace Church along Langata Road after Nairobi West Round About at Madaraka. (Just Before the Shell Petrol Station)
Psalms 99:5  Exalt the LORD our God; worship at his footstool! Holy is he!
Philippians 2:9-11 Therefore God has highly exalted him [Jesus] and bestowed on him the name that is above every name, so that at the name of Jesus every knee should bow, in heaven and on earth and under the earth, and every tongue confess that Jesus Christ is Lord, to the glory of God the Father.