Ray Media held its first  music artist forum 'Ray Talk' on Saturday 23rd Mar 2013, at Piebmont Plaza, Ngong Road, 9am to 4pm. So many artistes came in for the forum where they were able to discuss issues that revolve around an artist life during his/her music journey.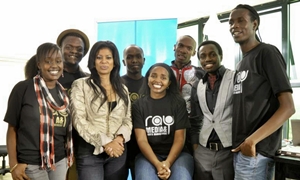 Ray Media is an event and artist management company that is based in Nairobi, Kenya. It was founded in 2012 with an aim to organize, motivate and nurture music artists. It also specializes in managing events, which include lights, sound and stage setup.
They normally train their music artists but they decided to open up to the rest of them quarterly, in March, July and  November tackling issues such as how to handle media interviews, managing finances, selling yourself to corporate, etiquette, time keeping and handling fans.
On  this forum held on 23rd March, the event was facilitated by Julie Gichuru, Sk Blue (Sakata) Ian Mbugua and Dr. Ofweneke.
Check the Photos By Ray Talk :