Groove Awards Nominations was hosted on May 7th at The Museum Auditorium by Mo Sound Entertainment In Partnership with Safaricom.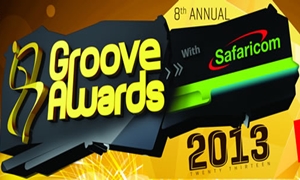 The Nominees were announced and now we have the voting codes for the nominees.
HOW TO VOTE:
SMS the word, "GROOVE followed by the Nominee Code" to 811 e.g. To vote for DK, type "Groove 1a" and send it to 811.
You will get a confirmation text thanking you for voting for Groove Awards 2013. Brackets will not be picked by the system
Grove Awards Nominees and the voting codes.
CODE MALE ARTIST OF THE YEAR
1a. DK Kwenye Beat
1b. Eko Dydda
1c. Jimmy Gait
1d. Kevoyout
1e. Kris Eh Baba
1f. Willy Paul
CODE FEMALE ARTIST OF THE YEAR
2a. Eunice Njeri
2b. Gloria Muliro
2c. Hellena Ken
2d. Jemimmah Thiongo
2e. Mercy D' Lai
2f. Mercy Wairegi
CODE GROUP OF THE YEAR
3a. BMF
3b. Christ Cycoz
3c. Kelele Takatifu
3d. MOG
3e. SOC (Saints of Christ)
3f. Tetete
CODE NEW ARTIST/NEW GROUP OF THE YEAR
4a. Bahati
4b. Chuchu
4c. Dennoh
4d. Hope Kid
4e. Joyce Omondi
4f. Makenna
CODE SONG OF THE YEAR
5a. Appointment – Jimmy Gait
5b. Mbona – Daddy Owen ft. Dennoh
5c. Mpango wa Kando – Gloria Muliro & Evelyne
5d. Sari Sari – DK Kwenye Beat Ft. Anto Neo Soul
5e. Sitolia – Willy Paul & Gloria Muliro
5f. Wanajua – Pitson & Mwenye Haki
CODE WORSHIP SONG OF THE YEAR
6a. Asante – Chomba
6b. Ayala – Mercy Wairegi
6c. Hutaniacha – Makenna
6d. Nibariki – Rozy Ohon
6e. Nimekubali – Eunice Njeri
6f. Usinipite – Ali Mukhwana
CODE ALBUM OF THE YEAR
7a. BMF – Rise Up
7b. Dennoh – Naona Mbali
7c. Mambo Yanabadilika – Hellena Ken
7d. Nuru – Mercy Wairegi
7e. Penya – Jemmimah Thiongo
7f. Urban Prayers – Rigga
CODE HIPHOP SONG OF THE YEAR
8a. Beautiful People – Eko Dydda
8b. Bila Yesu – SOC
8c. Bonga Bonga – Kelele Takatifu
8d. Champion – Christ Cycoz
8e. Katikia Yesu – Kris Eeh Baba
8f. Sina Chorus – Rigga
CODE AUDIO PRODUCER OF THE YEAR
9a. Bizzy B
9b. Dr. Eddie
9c. Gitonga
9d. Jackie B
9e. Saint P
9f. Teddy B
CODE VIDEO PRODUCER OF THE YEAR
10a. Dr. Eddie
10b. Eagle Films
10c. J Blessing
10d. Princecam
10e. Tiger
10f. Young Wallace
CODE VIDEO OF THE YEAR
11a. Conquerer – Joyce Omondi
11b. Emmanuel – Mercy Masika
11c. Katikia Yesu – Kris Eh Baba
11d. Mbona – Daddy Owen & Dennoh
11e. Money Money – M.O.G
11f. Sari Sari – DK Kwenye Beat Ft. Anto Neo Soul
CODE COLLABO OF THE YEAR
12a. Holiday – Hope Kid & Altermin Dancers
12b. Kando – Gloria Muliro Ft. Everlyne
12c. Kofi Yoo – Masterpiece ft. D.K Kwenye Beat & Cabassa
12d. Mbona – DaddyOwen Ft. Dennoh
12e. Sitolia – Willy Paul & Gloria Muliro
12f. Wanajua – Pitson & Mwenye Haki
CODE RAGGA/REGGAE SONG OF THE YEAR
13a. Amazing Grace – Guardian Angel
13b. Get Ready – Jfam
13c. Holiday – Hope Kid
13d. Monday till Sunday – Dafari
13e. Pull Up – Kevoyout
13f. This Life – Redemption ft. Simbo & Guardian Angel
CODE DANCE GROUP THE YEAR
14a. Alabaster
14b. Altermin
14c. Flamers
14d. Iced
14e. Jims & Dims
14f. Zionists
CODE GOSPEL RADIO SHOW OF THE YEAR
15a. Gospel Sunday – Milele FM
15b. Inuka – Hot 96
15c. Replay Show – Truth FM
15d. Shangilia – Hope FM
15e. Trinity Connect – HBR
15f. Tukuza – Radio Maisha
CODE GOSPEL TV SHOW OF THE YEAR
16a. Crossover – NTV
16b. Gospel Garage – K24
16c. Kubamba – Citizen TV
16d. Password – NTV
16e. Rauka – Citizen TV
16f. Tukuza – KTN
CODE RADIO PRESENTER OF THE YEAR
17a. Allan T – Trinity Connect (HBR)
17b. Amani – Shangilia (Hope FM)
17c. Antony Ndiema – Tukuza (Radio Maisha)
17d. Kambua – Inuka (Hot 96)
17e. Esther Kagamba – Gospel Night Live(Ghetto Radio)
17f. Jay Njoroge – Mwamba (HBR)
CODE DJ OF THE YEAR
18a. DJ GG
18b. DJ Krowbar
18c. DJ Mo
18d. DJ Sadic
18e. DJ Sanch
18f. DJ Touch
CODE CENTRAL SONG OF THE YEAR
19a. Agocwo – Betty Bayo
19b. Dady Wa Power – C-Bsir
19c. Kindu wa Nii – Dennis Mutara
19d. Kiriro – Simon Njehia
19e. Magegania – Sammy Irungu
19f Ruciu Rwaku – David Mambo
CODE EASTERN SONG OF THE YEAR
20a. Kwambata – Dorcas Ndambuki
20b. Ndikasyoka Thinani – Stephen Kasolo
20c. Nibwega – Kendi Meme
20d. Nue Ndete – Mbuvi
20e. Twendaneni – Ameru Crew
20f. Utao – Purity Katieko
CODE NYANZA SONG OF THE YEAR
21a. Amiela Miela – Wamor
21b. Inkanye Nyasae – Caro Nyakwaka
21c. Kwe Kende – Rosemary Ogonya
21d. Many Many – Tetete
21e. Nying Manyien – Geraldine Oduor
21f. Sonko wa Sonko – Christine Atieno
CODE RIFT VALLEY SONG OF THE YEAR
22a. Ashe Papalai – Charity Tajeu
22b. Kiboiboi – Faith Kosgei
22c. Maiwek – Joel Kimeto
22d. Osalaba – Sam Manga
22e. Safina – Maryanne Tutuma
22f. Young Man – Mr. Israel
CODE PWANI SONG OF THE YEAR
23a. Calender ya Mungu – Anastacia Mukabwa
23b. Chuna Pua – Kimsa
23c. Elshadai – Yvonne Aphia
23d. Maisha Bila – Princess Farida
23e. Nakuabudu – Clemence Tumaini
23f. Nakungoja – Mercy D Lai
CODE WESTERN SONG OF THE YEAR
24a. Chemishet – Doreen Baruto
24b. Matsai ka Yesu – Gloria Muliro ft. T.H.U.G
24c. Nge Ekhisi – Selina Sitati
24d. Olwanda – Sally Siboi
24e. Omusamba Kwa Yesu – Bishop Olumasai
24f. Shibenganyata – Joesph Sishia
CODE ARTIST OF THE YEAR (UGANDA)
25a. Coopy Bly
25b. Exodus
25e. Holy Keane Amooti
25f. Jackie Senyonjo
25c. Ruyonga
25d. Wilson bugembe
CODE ARTIST OF THE YEAR (TANZANIA)
26a. Bahati Bukuku
26b. Bonny Mwaitegi
26c. Christina Shusho
26d. Martha Mwaipaja
26e. Rose Muhando
26f. Upendo Nkone
CODE ARTIST OF THE YEAR (RWANDA)
27a. Bahati Alphonze
27b. Gaby Irene Kamanzi
27c. Kabaganza Liliane
27d. Patient Bizimana
27e. Theo Uwiringiye
27f. Tonze
CODE ARTIST OF THE YEAR (BURUNDI)
28a. David Nkundimana
28b. Dudu Niyukuri
28c. Fabrice Nzeyimana
28d. Fortrand Bigirimana
28e. Redemption Voice
28f. Seraphins Song
—