The flamboyant singer's fans are fixated on a Jubilee poster doing rounds on social media that states she's running for women Rep in Migori County in 2017, the same county where her mother is the Women's Rep.
"The devil is at it again," she captioned the photo on Instagram."Now am not selling women pictures to Europeans, now am vying for the Migori women rep. Let somebody warn this person trying to push me to the wall to be careful. Am not a politician, I don't know any tail or head of politics, I am too young to be stressed."
The singer warned the rumor mongers that politics will never be her thing. She said getting married, fashion and getting more kids are the things currently in her mind.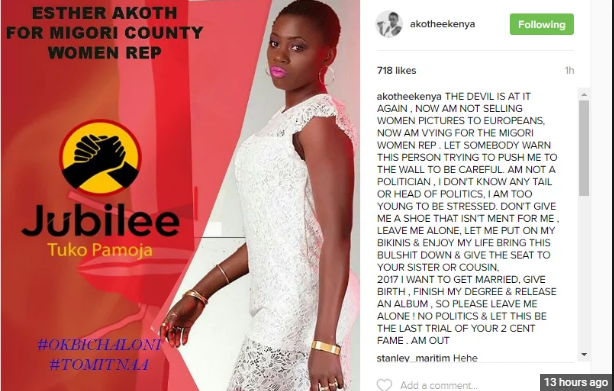 "Don't give me a shoe that isn't meant for me. leave me alone, let me put on my bikinis & enjoy my life, bring this poster down and give the seat to your sister or cousin, 2017 I want to get married, give birth , finish my degree & release an album , so please leave me alone. No politics & let this be the last trial of your 2 cent fame. Am out!" she continued to say